Bell and Sands Win at Cherokee, Lions Extend Lead In Cabela's School of the Year
Fishing -
Fri, May 19, 2017
Dayton, Tenn. – There was no slowly easing their way into the forefront of collegiate fishing, but instead the Bryan College Lions Fishing Team have battled their way for an opportunity to earn the prestigious title of Cabela's School of the Year in just their third season in existence. The unstoppable force of Nathan Bell (SR/Riceville, Tenn.) and Cole Sands (SO/Calhoun, Tenn.) helped the Lions put even more space between them and No. 2 University of Tennessee on Saturday, May. 13 by vaulting into the winner's circle at the Carhartt Bassmaster College Series Eastern Regional presented by Bass Pro Shops on Cherokee Lake with a three-day total of 44 pounds, 4 ounces of bass.


Bell and Sands steadily climbed the leaderboard each day as they moved from fourth Thursday to third Friday and by day's end on Saturday, to the top spot. The Tennessee duo caught a final day limit of 15-3 to take the title by a mere 10 ounces over Tennessee Tech University.

"We thought we lost this tournament in the final few minutes of the day," Sands said. "I hooked a big one that went crazy at the boat and broke off. I thought for sure that would cost us."

In the end, the lost smallmouth didn't hurt their day as they ended on top after their fishing pattern paid dividends in the long run. Sands and Bell utilized a Carolina Rig when they targeted deep smallmouth bass, but it wasn't the ordinary run-of-the-mill Carolina Rig.

"We downsized everything to get as many bites as possible," the team said. "We used lighter line, a subtle Gary Yamamoto Senko as our plastic and a lighter rod to ensure we didn't pull it away from the fish or put too much pressure on the lighter line."

The Bryan College teammates weighed 15 smallmouth for the event and their average smallmouth was just slightly lighter than 3 pounds. They expected to catch some bass that size this week, but not on a Carolina Rig.

"We got on a stellar swimbait bite earlier in the week," Bell said. "But with a high school tournament last week and a 160-boat field for the first two days of this event, we knew they would see plenty of that bait, so we threw something a little different. It really produced."

Using a combination of maps and satellite photographs helped the team find their offshore structure on Cherokee. The lake has been low all winter and a lot of the satellite imaging shows off the plentiful bottom structure this fishery has. The Elite Series fished Cherokee Lake in February, but it was 25 feet lower than it is now, which put plenty of water on those prime spots.

"Cole used Google Earth and other maps and found some really good offshore structure," Bell said. "One of those areas really produced quality (bass) for us this week. We used another area to fill our limit, and one or two spots to put above-average bass in the boat."

The teammates overtook Tennessee Tech's John Berry and Sam Carris, who held the lead the first two days but fell to second with only 12-3 on the final day. With a different wind direction, overcast skies and a lot of pressure on their areas, they caught more non-keepers on Saturday than any other day.

Taking third place were John Garrett and Brian Pahl of Bethel University (Tenn.) with a total of 41-12. The 2016 National Championship runner-ups punched their ticket again to the championship again this year. Garrett was the 2017 College Series qualifier for the GEICO Bassmaster Classic presented by DICK'S Sporting Goods.

Nick Hatfield and Corey Neece of Tusculum College (Tenn.) finished fourth, and Sam Glenn and Tyler Spainhour of the University of North Carolina-Charlotte were fifth.

Glenn and Spainhour jumped from 10th to fifth on the final day thanks to the Nitro Big Bag of the event, which was 16 pounds of Cherokee Lake largemouth. They received $250 Bass Pro Shops gift card for that honor.

The Big Bass Award of the event went to Bryan's Jacob Foutz (FR/Charleston, Tenn.) and Jake Lee (FR/Knoxville, Tenn.) for their 4-6 smallmouth from Friday.

The Livingston Lures Day 2 Leader Award of $500 went to Carris and Berry for holding the lead going into the final day.

The Top 21 teams advanced from the Eastern Regional and will now fish the Carhartt Bassmaster College Series National Championship presented by Bass Pro Shops later this summer. Teams that didn't qualify will have one final shot during the Carhartt Bassmaster College Series Wild Card presented by Bass Pro Shops at Lay Lake, Alabama, June 8-10.

The Economic Development Alliance of Jefferson County, Tenn. and Carson-Newman University hosted the event.
With only one event left in the Cabela's School of the Year presented by Abu Garcia race, Bryan shows no sign of letting up on their lead in the Cabela's School of the Year running. The Lions have been the number one ranked team in the nation for the last 10 weeks this year. As it currently stands, Bryan College has a commanding 155-point lead over the second place team, University of Tennessee – Knoxville, and a 181-point lead over the two-time School of the Year winners, University of North Alabama, who currently hold down 3rd place.
For many clubs, the Cabela's School of the Year Title is already known to be the most respected title in college fishing because of the work teams and members have to put in towards the title. Bryan, while a newcomer to the collegiate bass fishing scene, knows that attaining this title is one of the primary goals of the club.
"We are just a small Christian school in the foothills of Dayton, Tennessee. To be leading the School of the Year race is a huge thing for our school and a big thing for all of us. We have really tried hard this year at all of the events and our lowest finish is 13th place, it really has been a record year for us. We just hope that we can keep our foot on the pedal and finish strong and take the School of the Year trophy back to Dayton, Tennessee," said Connor Fogg (JR/Fayetteville, Tenn.) and Sands.
Soon enough, the Lions will know if they did enough this season to capture the title. The final event of the season will be fished on Lake Pickwick, which is also the home of the University of North Alabama fishing team, and with double points on the line, it's still possible that either University of Tennessee – Knoxville or the two-time champs North Alabama could come from behind to steal the win. The BoatUS Collegiate Bass Fishing Championship runs from May 22-26, in Florence, Ala.
The Current Cabela's School of the Year Top Ten teams are listed as follows: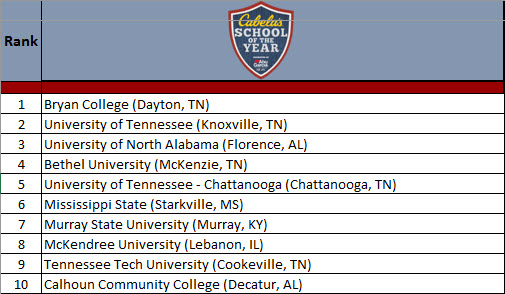 For complete standings, click here.
Follow throughout Championship Week on Facebook, Instagram, Twitter, and Cabela's website for live coverage.
This year's national tournaments…
The Lions participated in Cabela's Dardanelle Derby, Big Bass Bash, and the Texas Shootout, and along with the automatic entry, four teams will be competing from Bryan at Pickwick: Bell and Sands, Matt Brown (FR/Corbin, Ky.) and DJ Barber (SO/Birmingham, Ala.), Chandler Fogg (SO/Fayettville, Tenn.) and Connor Fogg, and Dylan Pritchett (JR/Evensville, Tenn.) and Connor Thompson (SO/Fort Payne, Ala.).
Bassmaster's national championship is Aug. 10-12 on Lake Bemidji, situated on the campus of Bemidji State University in Bemidji, Minn. Four pairs of Lions made the cut at Cherokee and will be vying for the crown at Bemidji: Bell and Sands, Lee and Foutz, Dylan Kear (JR/Clinton, Tenn.) and Dalton Price, and Brown and Barber. Lee and Foutz fought their way to a 9th place finish at the recent Bassmaster regional and were followed by Kear and Price in 12th, and Brown and Barber in 21st.
The FLW have a different setup than the Cabela's and Bassmaster's since they offer three regional qualifiers for each region, along with the FLW Open, which acts as a wildcard that in turn draws out the length of the season. FLW's qualifiers for their national tournament are fished the year before, which means that Bell's and Sand's 8th place finish at Lake Guntersville, 17th on Lake Hartwell, and notable 4th spot at the FLW Open marks three times they have qualified for next year's national tournament. Based off last year's performances, the teams of Bell and Kear, Pritchett and Thompson, Lee and Foutz, and Sands and Connor Cohran (FR/Dalton, Ga.) will be hitting the water of Wheeler Lake hoping to make a splash in the FLW National Championship on May 31-June 2.
Information retrieved from bassmaster.com (Ronnie Moore) and collegiatebasschampionship.com (Cabela's Bass Fishing News).